Walking Club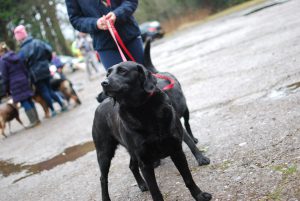 The Grovehill Walking Club has been meeting every Friday morning at 11:30am in Seskinore Forest Park since January 2013 and is proving to be very popular. We have had all weathers from snow and gale force winds to beautiful sunshine. We're really grateful to everyone who has turned out week after week. The dogs are all so appreciative it's the highlight of their week. All animal lovers are invited to join in for an hour of dog walking through some beautiful surroundings.
Regular walking is so important to the dogs that are living at the shelter. Being active and getting out and about helps them so much and is important to their welfare as their daily feeds.
Grovehill need your help! The club is also a great opportunity to spend some time outdoors, get some fresh air, great exercise and of course have a bit of fun. Come along and make some new friends. Contact the shelter on 028 8076 0482 for more information.